We're about to Rize up in the fighting game division with the imminent arrival of Street Fighter V, and what better way to channel our excitement than to speculate over the direction our players will take choosing their character?
First off we can start with Infexious. Infexious is a player who really took 2015 by storm putting in some fantastic performances on the European circuit. He gained notoriety doing this with Hugo, a character that was widely viewed as low tier in Japan. The natural choice would probably be Birdie. A zoner with great normals and some trickery to boot. However he's a player capable of using numerous characters each with different playstyles. I would predict he'd be keen on Birdie but I'd love to see him use a character like Vega and showcase his strong footsie game. I'm sure he will have a tough choice ahead of him and I wouldn't be surprised if he runs with 2 or 3 characters.

Could Vega be a suprise selection from Infexious?
Next up we have Brian. I've had the pleasure of witnessing his own ascension on the UK circuit, introducing himself to the team in style with a win at M.A.S.H 2 in Leicester. A player I would consider to be the best in his country, he has added a more fundamental approach to his pin point execution. I believe he will be looking at Cammy. A character who appears to have a mix-up game with excellent normals to boot and good mobility. Don't be surprised if he adds Juri to his repertoire once she is released as he's very fond of the character (I couldn't imagine why since Bison is obviously the best villain). Regardless of character I expect Brian to put in even more work this year and turn his hunger into serious results.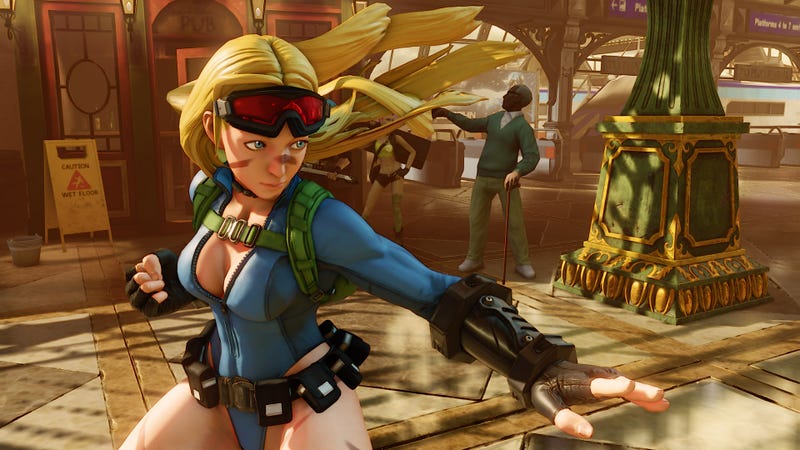 Cammy seems to be nailed on until Ultra favourite Juri is released.
BoltStrike also had a good showing throughout 2015 using his trademark Gen whilst developing a pretty mean Decapre. I get the feeling Bolt could do well with the likes of Fang. Although we know very little about him he seems quite unique as a character which I think he could favour. In all honesty I struggle to think of who he will go to so I'm as interested as anyone to see how it turns out!
Zain achieved some strong showings at his local scene last year. Naturally you might think Zain would move to someone like Nash considering his experience with Guile. We witnessed him develop a Yang so I sense he could try something different. I think he may be keen on a character like Karin although, much the same with BoltStrike, I'm very curious to see who he decides to go with.

Is Karin an option for Zain?
An exciting development is that our Canadian Killer Instinct player, McSquared, is moving over to SFV. A player who achieved 2nd place at Canada Cup in KI last year, he clearly has some pedigree which I'm looking forward to seeing in a Street Fighter environment.
From a personal standpoint I'm very keen to learn Bison in this game. I feel he's very different and there is a motivation to grasp his new style. In addition I believe he will be very strong with lots of potential pressure specifically when in V-Trigger. I plan to talk about my experience adjusting to the new Bison later down the line. It should be an exciting challenge!

Old dog, new tricks?
With roughly 2 weeks left until release we're all just looking forward to putting the time in. I'm confident the team can have a year equally, if not more successful than 2015 was. Be sure to check the website for updates and to monitor our progress.